Why Use Me and my Team?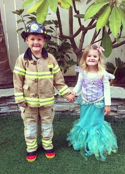 1/2014
"Tracey is the best realtor ever. She goes out of her way to provide the best service. Her expertise in real estate made our mission of finding the perfect houses easy. Tracey has always listened to our needs and desires and goes above and beyond to exceed our expectations. What a blessing and honor it's been to work with Tracey for all our real estate needs." Paul and Amanda Kent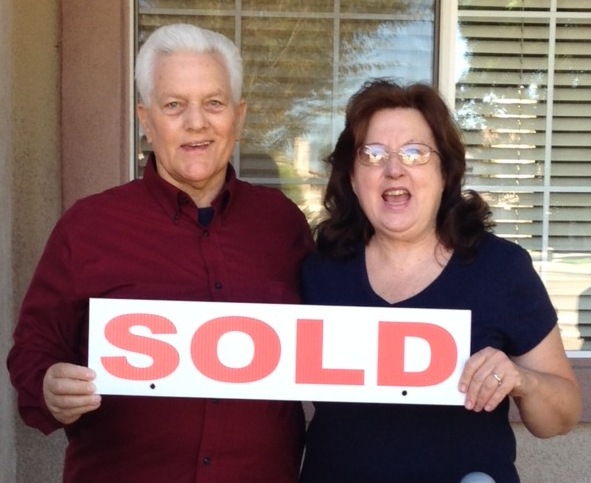 1/22/14 "Tracey was a God send to us. We had so many difficulties with our title and other issues involving dual ownership. We would never have made it through all the legal hurdles without Tracey's professional and knowledgeable help. She guided us every step of the way. There were days we thought we would not be able to sell our home, but Tracey just worked through all the barriers. I would recommend Tracey to anyone selling their home. Especially if you feel you might have unusual circumstances with title or ownership. We had so many people looking at our home because of the beautiful internet listing she posted. We were not only able to get our price but escrow closed 3 months after we listed. We thought it would take 6-10 months. Thank you Tracey for helping us keep our sanity through a most difficult time." Robert & Ada Stovall (Fontana, California)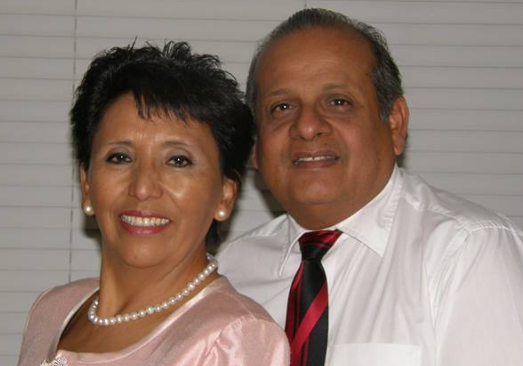 8/2013 "I give thanks to God for Tracey who handled both the sale of our home and the subsequent purchase of our new home. Honestly, it was a blessing to work with Tracey who has great experience & understood my frustration. Not only that she always had a word of encouragement & grace throughout the process. If not for her I probably would have given up by now. Thank you Tracey for making the Difference!!" John & Isabel Monje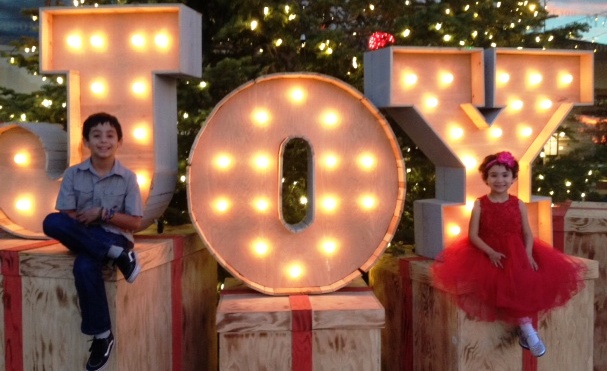 May 2012

"This was the 2nd time we chose Tracey! Her hard work, expertise, advise, perserverance, communication, professionalism, grace, understanding and prayers are just a few of the reasons why!"
The Garcia Family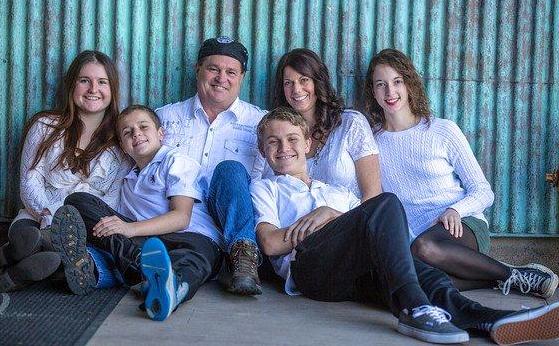 May 2013
"Our experience with Tracey was great. She was honest about our options & wonderful at providing updates. She was so encouraging to us & even shared our faith that everything would happen in God's will. She is extremely knowledgeable & we would recommend her to anyone who wants the best of the best!" Mark & Susie Tarca Family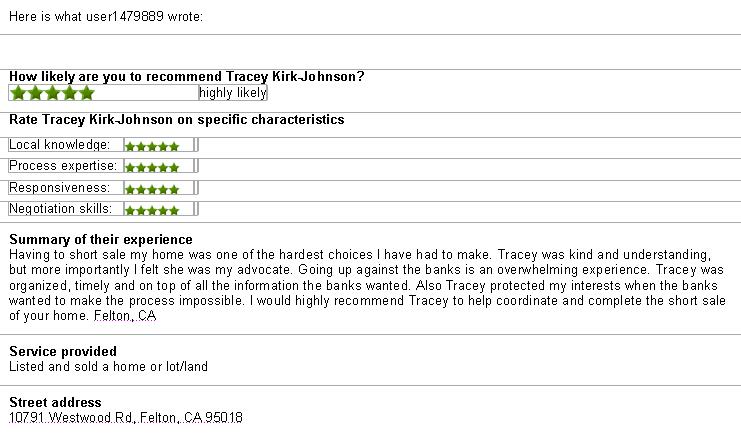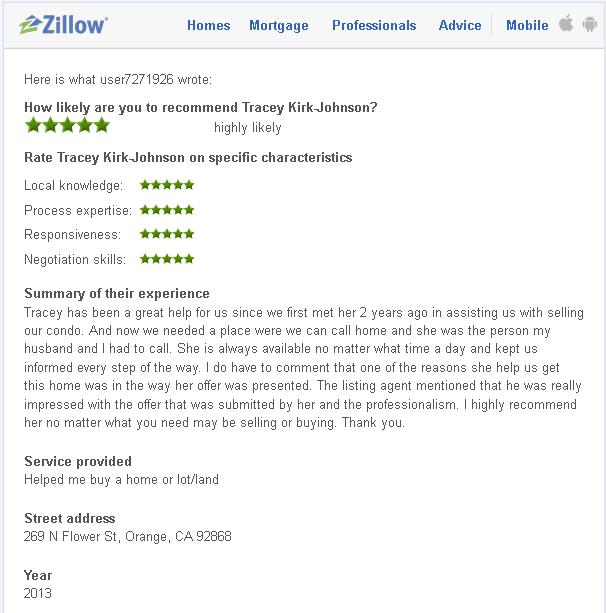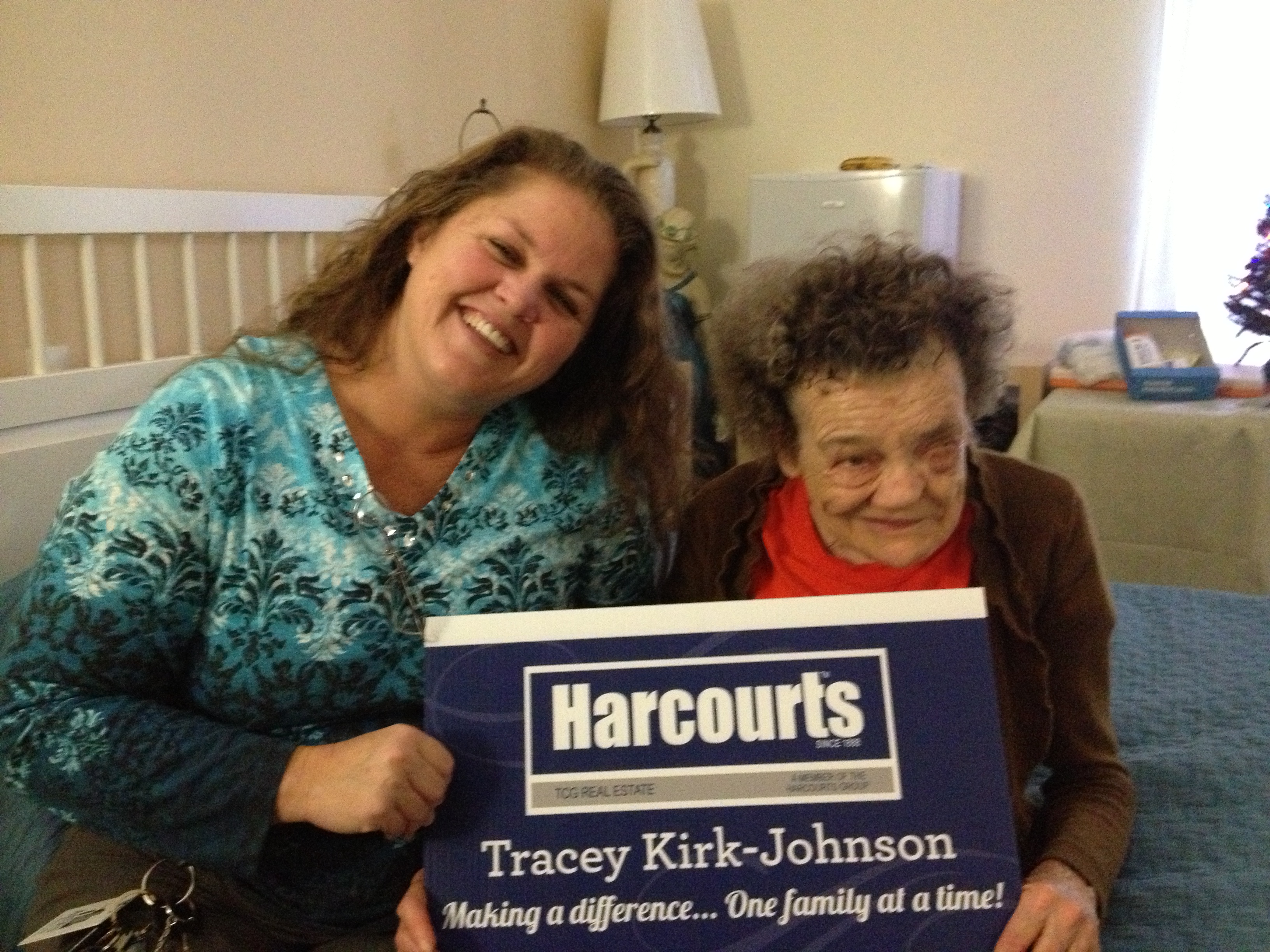 8/25/11 Thanks so much Tracey, you are fantastic and such a professional. I personally want to thank you for all you did for not only Allison, but for my clients. It has been a complete pleasure to do business with you. Anyone who can put up with my emotionalism and remain as cool as you have, has earned my respect and gratitude! Talk with you soon. Thanks again. ANDY ASHTON, Prudential California Realty
"We deeply respect your accomplishment in assisting us with our former properties. You were God-send at a time of our greatest need. The attached is a letter of recommendation that you richly deserve. Please utilize it for your portfolio. You may also have others contact me in-person as a reference. Regards & God Bless" Neil Aragon 805.581.1690
"Dear Tracey, Jan and I want to thank you for your wonderful, personal service which you displayed in the sale of our home. We had been living in what my wife called her "dream house" for 22 years. we were now retired, kids gone, health deteriorating, economy failing, and our over-all situation changing. Our family advised a change. It was a tough choice. You not only helped by making the sale of the house very smooth, pain free, and efficient, but you are well equipt to make the psychological difficulties disappear. We highly recommend your services, and would be glad to be contacted by anyone who would consider calling." Dave and Jan Davies, LB, CA 562-912-2246
"It's bitter sweet. Mixed emotions when I was there moving our stuff out of the unit. Tracey thank you so much for your help, commitment and love you put into this process. We will need to get together and celebrate! Thanks again!" Louie Garcia, Lake Forest, CA
"Fully forgiven of our mortgages, wow, you did it Tracey and I thank you from the bottom of my heart. I was so hesitant as I'd been burned by a loan mod group...unlike them YOU certainly delivered on what you said you would do and you were there to encourage and pray with me every step of the way. " DK, Las Flores
"Sheryl and Tracey did a tremendous job working with the banks, keeping me informed as need be, and faciliating a fluid process in getting the transaction completed. Tracey and Sheryl were available to answer all of my questions, addressing all of my concerns in a timely manner. I can't overstate the relief and peace of mind I have knowing my home was sold without having to worry about a hanging debt. I recommend Tracey and Sheryl without reservation." Lino, CA
"Thank you for helping us through that difficult time in our life. It was very refreshing to deal with someone as professional as you. We will recommend you to someone in need any time." Claudia, Oceanside
"My husband and I just wanted to send you a note of thanks! We think you are top-notch,. You really made our transaction go very smoothly even though it was an out of state property you never missed a beat! We are so truly grateful to God for guiding us to you. Thanks so very much!" KB & SB
"Tracey, you added a genuine personal touch to your professionalism when working with us through the recent sale of our home. I will always remember the hard work that you put into making things happen, and helping me to stay focused in order to complete the transactions. Thank you." Roger, Mission Viejo, Ca.


I just want to thank you,Tracey and your team, from the bottom of my heart for the wonderful service you provided during this very rough time in my life. You have been so very compassionate, understanding and a true professional thru-out the whole transaction. When it came to dealing with the the endless negotiations, counters and rejections from the banks - you didn't give up, as I would've done so many times prior. I would highly recommend your services, expertise, true understanding and compassion to anyone that needs help. Marilyn V.
Tracey, Thank you so much for all your hard work and time and effort and expertise and advise and perserverance, and determination and stick-to-itiveness and professionalism and grace and understanding and prayers...Lauri 4/23/11
Hi Tracey, It is kind of hard to believe it is all over. Nathan and I will miss Avondale. But I believe this was meant to happen and we were meant to move on to a different chapter in our life. Thank you Tracey, Joy and everyone who was involved in the short sale of Avondale who helped make this experience painless. Thank you to all of you for all your hard work and keeping my spirits up when I was stressed. However, now that it is done, I realize how fortunate I am compared to so many other people who are going through and who went through a short sale process. Tracey I do think God meant for me to go through this for maybe many reasons, but I think one of them was to meet you. Thank you again for everything and especially your prayers. I hope we keep in touch. Love, Angela, Irvine CA March 23, 2011
Tracey, We are so thankful the God put you in our path, you have helped us in a way the you cannot imagine, we found an apartment in Rancho, we where able to get some cash for keys from the Bank, I thank you for all the time and effort you and Joy put into our situation, you and your team are in our prayers.
Thank You! y que Dios te bendiga
Alberto Sanchez, Esther, Blake y Chloe March 14, 2011
8/17/11 "Tracey has been a God send for me in a couple of housing sales. When the second one came up she was the first one I called! Tracey is personable, so knowledgeable and goes out of her way to help clients! (ie helping sort, pack, box and move, etc.) Tracey will be my choice when I have another housing sale or purchase. I highly recommend her for your real estate transactions. If any additional information is requested feel free to call me! Allison Metzler
8/12/11 Hi, Tracey and Joy: I just wanted to take the opportunity to offer my families' deepest appreciation on all your hard work on our short sale, it took some time but, the Lord was faithful and helped us all through the process. Thank you guys so much for your dedication and patience and for the updates through it all, we feel blessed to have had you guys helping us and wanted to let you know it means a lot to us, it feels good to know faithful people like yourselves are out there offering help to those in need, may God continue to bless you and your families. THANK YOU-with much love, Campos family
Hi Tracey, It is kind of hard to believe it is all over. Nathan and I will miss Avondale. But I believe this was meant to happen and we were meant to move on to a different chapter in our life. Thank you Tracey, Joy and everyone who was involved in the short sale of Avondale who helped make this experience painless. Thank you to all of you for all your hard work and keeping my spirits up when I was stressed. However, now that it is done, I realize how fortunate I am compared to so many other people who are going through and who went through a short sale process. Tracey I do think God meant for me to go through this for maybe many reasons, but I think one of them was to meet you. Thank you again for everything and especially your prayers. I hope we keep in touch. Love, Angela, Irvine CA March 23, 2011